THE PROCEDURE
Participants of the workshop were encouraged to find used words, sentences and text fragments to re-use them in new messages.

The first assignment was to collect as much raw material as possible. The participants passionately searched through dumped library-books, dusty newspapers and dug deep into their own memories. The words they found were entered in the official, 'lichtgewichte luchtberichte'-notebook.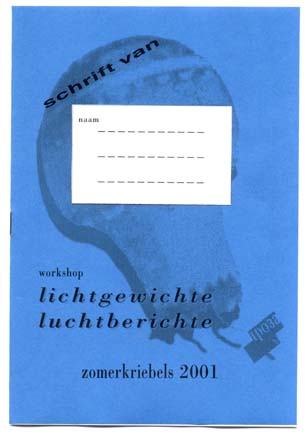 The participants filtered the collected words according to certain procedures: words were crossed out, a game provided questions and answers, and dice were played to indicate the right components for creating new sentences.

At the end of the day, the participants had selected the appropriate words and used them to create a series of messages or even a poem. The texts were written on paper tags with waterproof markers.

Finally the words had to be spread. For that purpose, helium filled balloons were used. The tags were tied to the balloons.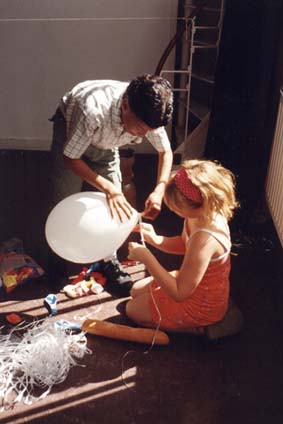 13.25 h: Cees and Dorien fill the balloons with helium.
The release of the balloons from the Westerkade will inevitably disturb the local air traffic, especially the flight of domestic birds. As a compensation for this short violation of their territory, a small piece of bread will be attached to each balloon.

13.26 h: Lodewijk and Maurits attach pieces of bread and tags to the balloons.
participants:

Sacha, Sabine, Maurits, Lodewijk, Dorien, Cees, a.o. ....