MULTI-PURPOSE TUBE
a basic requisite to achieve horizontal awareness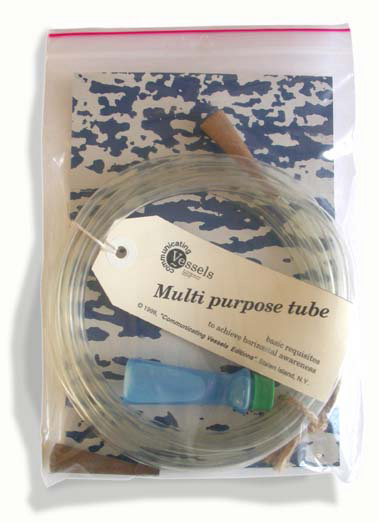 the multiple includes:

10' of Multi-Purpose Tube system with two wooden stops

1.2 fl. oz./35 ml. container with non toxic Multi-Purpose tube fluid

edition: 25

The Communicating Vessels multi-purpose tube is developed for three different applications:
Application 1: Level.
This is an instrument giving a line parallel to the plane of the horizon, for testing whether things are horizontal. The basic tool to achieve horizontal awareness.

Remove the cones from the tube ends, hold both ends up and fill the tube with the blue colored (safe!) liquid. The liquid level in both tube ends will be on the same horizontal plane. Roll it out, and check the levels of your natural environment.
Application 2: Siphon.
This is a device to convey a liquid from a container to a lower level by atmospheric pressure. A siphon is a very useful device. It enables you to empty liquid from a vessel, when the vessel is too heavy to lift or tip over.

Remove the cones from the tube ends, hold one end of the tube in each hand and completely fill the tube with the liquid you want to convey. Place your finger over the ends of the tube so that no liquid can escape. Quickly place one end well below the surface of the liquid in the higher vessel. Let the other end of the tube hang down above the lower vessel. Remove your fingers from both ends of the tube at the same time. The liquid flows through the tube from the higher into the lower vessel.
Application 3: Long distance drinking straw.
Keep your favorite drink at arm's length. Remove the cones from the tube ends, and... You've done it before. It only takes a little longer!

Communicating Vessels editions © 1998, Staten Island