HTML PRETZEL
a binary delicacy for the PC / Macintosh
2HD floppy disk containing 4 files

edition: 50 (PC)/40 (Mac)

(this disk is not for microwave use)

Congratulations! This is your Communicating Vessels 'HTML Pretzel'. This artwork was produced by Ron Rocco and Arnold Schalks for the installation and performance of the same name which takes place September 1-14, 1998 at the St. George Terminal of the Staten Island Ferry.
Contents of this disk:
PRETZ JPG

30,641 bytes 07-17-98.

Pretzel image file, photographed at the Ferry Terminal.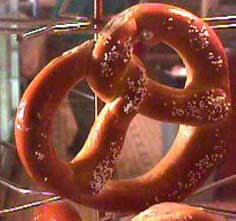 PRETZE6 WRL

25,926 bytes 05-03-98.

VRML Pretzel to be viewed with Cosmo Player version 1.0

(Link to Cosmo Player Download site to obtain Cosmo Player version 1.0 Plugin for Netscape Navigator 4.0: http://vrml.sgi.cosmoplayer)

NOTE: YOU WILL NEED Netscape Navigator 4.0.

PRETZEL HTM

1,661 bytes 08-21-98

Instruction on how to make your own Pretzels.

4 file(s) 58,352 bytes

Enjoy!

Communicating Vessels editions © 1998, Staten Island