COMMUNICATING VESSELS NEWSSTAND
Newsstand design by Ron Rocco

The 4' module of the Communicating Vessels newsstand includes a video display, telephone information service and an internet terminal. From this structure, guests are able to communicate on different levels with other cyber-vessels, send electronic postcards and sample some specially created cyber-goods, including New York's first HTML Pretzels. Additions to the internet terminal allow viewers to track the movements of the Staten Island Ferry through New York harbor, as well as view the Communicating Vessels website and VRML compass. The newsstand also accomodates the Waterline Tours travel agency.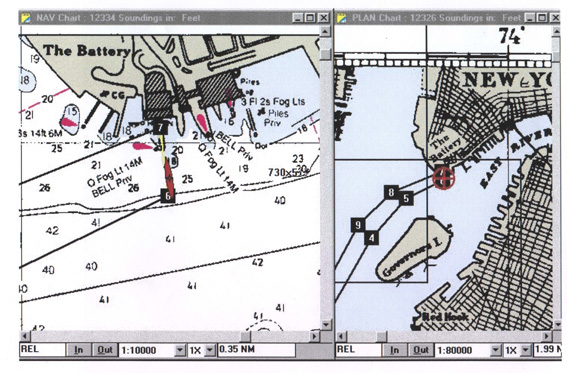 The interface of Maptech's Navigation software, showing the course of the S.I. Ferry through Upper New York Bay.